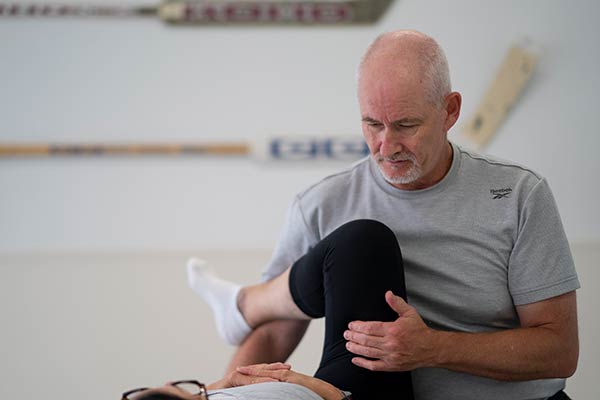 The physiotherapists at Cleveland Clinic Canada address the needs of individuals who suffer from conditions affecting mobility and understand the importance of restoring quality of life. Our physiotherapists use a variety of techniques such as manual therapy, electrotherapy and activity specific exercises to improve movement and function in the affected area as well as to relieve pain.
What Is a Physiotherapist?
A physiotherapist in Ontario has obtained a graduate degree (or equivalent) plus specialized training in physiotherapy. A physiotherapist has the skills to conduct an extensive assessment of a patient's health history, evaluate pain and movement patterns and establish an individualized treatment plan. This treatment plan can include exercises, hands-on therapy, acupuncture and education to prevent future re-injury. All of our physiotherapists are registered and in good standing with the College of Physiotherapists of Ontario (CPO).
What Do We Treat?
We commonly treat the following musculoskeletal issues:
Arthritis
Foot disorders
Joint injuries
Muscular imbalances
Neck and back pain
Sports injuries
Dance injuries
Surgical rehabilitation
Mobility impairments resulting from injury, trauma, athletics
Age-related deconditioning
Paediatric musculoskeletal conditions
Issues specific to marathon runners, triathletes
Muscular and postural imbalances and any related muscular decline
Many more
Our physiotherapists encourage you to become an active participant in your recovery plan. We work closely with you to improve your ability to move as you recover from illness, disease, injury or long periods of inactivity.
Depending on your needs, treatment techniques may include:
Various manual therapy techniques including joint mobilization, soft tissue massage and range-of-motion work.
Programming to improve mobility, flexibility and muscle strength, while decreasing stress on the joints.
Static and dynamic stretching exercises.
Education on injury prevention.
Use of the McKenzie Method of Mechanical Diagnosis & Treatment for the treatment of low back and neck pain.
Orthopaedic Manual Therapy (OMT) for the spine and extremities based on Maitland and Kaltenborn.
Procedures such as ultrasound and interferential current therapy, which uses electrodes to stimulate soft-tissue healing.
Bracing: Can treat a wide range of musculoskeletal disorders such as ligament tears and osteoarthritis.
Custom knee bracing for a variety of knee conditions.
Foot orthotics: May be prescribed to treat a variety of immobilizing and biomechanical foot disorders.
Neuromuscular re-education using electrical stimulation for the treatment of muscle imbalances or atrophy.
Strengthening exercises utilizing free weights, machine weights, theraband, Swiss ball, and providing appropriate feedback.
Active inhibition (hold/relax).
Deep friction massage.
Our physiotherapists may use acupuncture needles (by request) to help alleviate pain and improve blood circulation to encourage the body's natural healing response. Acupuncture is effective in reducing stress, muscle tension and providing pain relief.
Electrotherapy procedures such as ultrasound and interferential current therapy (utilizing acupuncture-like dosage/setting).
Game Ready® MED4 Elite hot and cold compression system. A state of the art device that uses iceless cold, controllable heat, rapid contrast, and active compression therapies to reduce pain, control edema or swelling, encourage arterial blood flow, improve range of motion, and accelerate the body's natural healing mechanisms.
Are You Covered?
Physiotherapy services are not covered by OHIP, though may be partially or fully covered by extended health insurance plans. The coverage for each carrier is different; please check your plan to see what coverage is available for this type of service.
Staff
Downtown
Midtown (Sports Medicine Specialists)
View Other Sports Health Services:
Locations
Cleveland Clinic Canada Downtown
181 Bay Street
Brookfield Place: 30th Floor
Toronto, Ontario M5J 2T3
Cleveland Clinic Canada Midtown (Formerly Sports Medicine Specialists)
150 Eglinton Ave East
5th Floor
Toronto, Ontario M4P 1E8